---
I have been all over remote Alaska fly fishing, but have never felt as close to 'the edge' as I did at Aleutian Adventure's remote Alaska fly fishing camp. I was there for kings and the fishing was very good. Lots of bright fish and lots of grabs too. Located on good looking water and a great camp with terrific food and logistics. Put this one on your bucket list.
– Brian Okeefe
Remote Alaska Fishing Camp
This remote Alaska fly fishing camp provides world class Salmon and Steelhead fishing.We can say with confidence this is one of the best king, silver salmon and steelhead fishing destinations. This remote fly fishing watershed is second to none in diversity and will leave you with a renewed taste for fly fishing adventure. We fish these Salmon and Steelhead where the Bering Sea meets the most productive fishing waters in the region, the Sapsuk River. These waters are home to the largest salmon and steelhead runs on the Aleutian Peninsula.
Most salmon rivers in Alaska are large and intimidating to fish with a fly rod. The rivers we fish are easily fished with a fly rod. These rivers are perfect for spey casting and single handed anglers. Come join us in one of the final, untouched sport fishing destinations in the world.
We operate this remote salmon camp on the Sapsuk River. Our staff of very experienced guides target kings,silvers, sockeye, rainbow trout and steelhead. This diverse watershed offers you a very wide array of fishing opportunities. Leave the crowds behind and fish our premier Alaska fly fishing camp!
REMOTE ALASKA FLY FISHING CAMP
Year after year, this area has proven to be world class king salmon and steelhead fishing. Exclusive access to multiple destinations and the fact we only fish 6 people on these waters weekly; helps ensure there are plenty of un-pressured fish that can be very eager to take the fly which provides a very high quality fishing experience. The Sapsuk River is easily waded and fished with either a single handed, or two handed rods. Its not just the fishery that provides a great adventure and wonderful fishing, our guides are top notch and are deeply knowledgable about our fisheries.

Many people travel to remote Alaska fly fishing locations year after year looking for the "Salmon Grand Slam". There are few places in the world where you can almost guarantee the "Salmon Grand Slam" and this Alaska fly fishing camp is one of them. The Hoodoo River is one of the best places in the world to catch all five species of pacific salmon on the fly. And this is the time of year where we find an amazing overlap of all five species. At times, with the diversity of fish in the river, you just never know what you are going to catch next!
Our area waters are home to some of the finest silver salmon fishing Alaska has to offer. With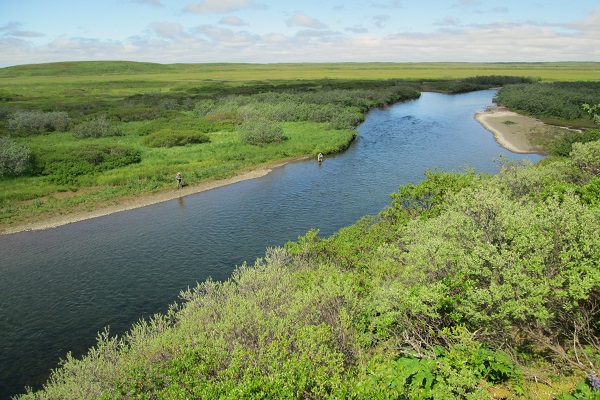 consistently large runs of fish; there are plenty of fish waiting to chase your fly. Also, our average sized silver salmon is one of the biggest in the state; several fish are caught each year tipping the scales at 20 lbs.
After a few years of exploration and trip development, we have been offering Alaska steelhead fishing trips to the general public for the past several years. If you are a serious angler and are looking for a remote Alaska fly fishing adventure, this trip is for you! This is a great time of year to come catch dime bright Steelhead fresh in from the Bering Sea. These are very hard fighting fish, averaging 30 inches and will rip line off your reel every time. Our experience fishing this season has been exceptional.
ACCOMMODATIONS AND MEALS
The accommodations at our river side camps are insulated, heated, solid platform constructed, weather Port tent structures. Our guests sleep in comfortable beds, with a full complement of linens, comforters, blankets and pillows. A small, quiet generator along with solar panels provides electricity. We keep a separate tent for drying waders as well as the storage of other gear. Each camp has a shower facility with on demand hot and cold running water as well as what might be the nicest outhouse views in the state. Our remote Alaska fly fishing camps are very well designed, comfortable, well maintained, warm, dry and clean. Dining here is casual. Generally speaking is not fancy, however the food is quite good. These meals can be easily described as "Family" style. That said, we work very hard to provide a wide variety of meals throughout the week. A typical breakfast may include: eggs to order, hash browns, ham/bacon/sausage, fruit, pan cakes and oatmeal. Our lunch items are basic and generally consist of soup and sandwiches. Items on our dinner menu may include: prime rib, king crab, sockeye salmon, T-bone steaks, halibut and chicken. All meals served are hearty and delicious. Vegetarian and lighter fare is always available upon request. Please contact us if you would like to come fish this premier fly fishing camp with us!
We typically begin booking our remote Alaska fishing destination(s) shortly after our season ends. We provide our guests right of first refusal on booking for the following season. If you are interested in booking this destination, please feel free to call or email and we can have you put on our call list. You may also fill out the following inquiry for which will help you provide more specific remote Alaska fly fishing needs you are looking for. Click For Inquiries
---
Please sign up for our 2023 Newsletters . They will keep you in the loop as to what is happening with weather, water and fishing at the Sandy.