Welcome to Aleutian Adventures, your gateway to exploring the beautiful and remote Aleutian Islands. Leave the crowds behind and come fish our Alaska fly fishing lodges and camps!  We operate fly fishing camps and fly fishing lodges in some of Alaska's most diverse and untouched fisheries. 
At Aleutian Adventures, we offer a variety of guided fishing and hunting trips to suit all interests and skill levels. One of our popular activities is fly fishing, which is a thrilling way to explore the waters and catch a variety of fish species. Our experienced guides will take you to the best Alaska fly fishing spots in the Aleutians, where you can target salmon, trout, and steelhead.
We also have our own Alaska fly fishing lodge that offers guests a comfortable and welcoming home base during their stay with us. Our lodge is situated in a scenic and remote location on the banks of a river, providing easy access to world-class Alaska fly fishing opportunities. The lodge features comfortable accommodations with modern amenities, including private bathrooms, comfortable beds, and heating.
We invite you to join us on an unforgettable fly fishing and hunting adventure in the Aleutian Islands and experience the warmth and hospitality of our Alaska fly fishing lodge. Let us show you the beauty and wonder of this remote corner of the world, and leave with memories that will last a lifetime.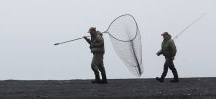 Sandy River Lodge
Over the past several years, this area has proven to be one the best Salmon and Steelhead fisheries in the world! If you are interested in swinging flies for hot sea run fish, this is the trip for you.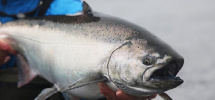 Aleutian Rivers Fishing
The king and silver salmon fishing opportunities available to our guests are second to none in diversity and will leave you with a renewed taste for fly fishing adventure. These waters are perfect for spey and single handed anglers.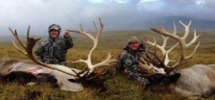 Trophy Reindeer Hunts
Join us on a wild and scenic Trophy Reindeer hunt at our remote Aleutian Island chain lodge, Nikolski Lodge. These animals powerful, plentiful and are truly amazing.
Alaska Sea Duck Hunts
Whether we are shooting from the beach that separates the Bering Sea from Herendeen Bay or from a layout boat in the protected waters of Nelson Lagoon, we are hunting hunting over a truly amazing number of birds!